Who Can Request Interlibrary Loans?
Current faculty, students, and staff may request ILL materials.
Associated faculty are eligible during the semesters in which they are teaching.
What Can Be Requested?
Any book, article, or thesis that is not owned by the Carey S. Thomas Library may be requested.
Library items that are missing, or lost may be requested.
Items checked out to another patron may not be requested.
Because the Library does not mail books, students, faculty, and staff who cannot come to the Denver Campus Library may request articles, chapters, and essays to be emailed to them.
Please limit ILL requests to no more than 10 items per week.
How Long Does It Take to Receive an ILL?
Please allow at least three weeks for books.
Articles, chapters, and essays may be available within days.
If an item is held by a local public library or one in the Atla Reciprocal Borrowing program, it may be quicker to check it out directly from that library. To locate libraries holding an item, choose Libraries Worldwide under Held by Library in the left column of the catalog. Click on the title and scroll down the page to Search Location.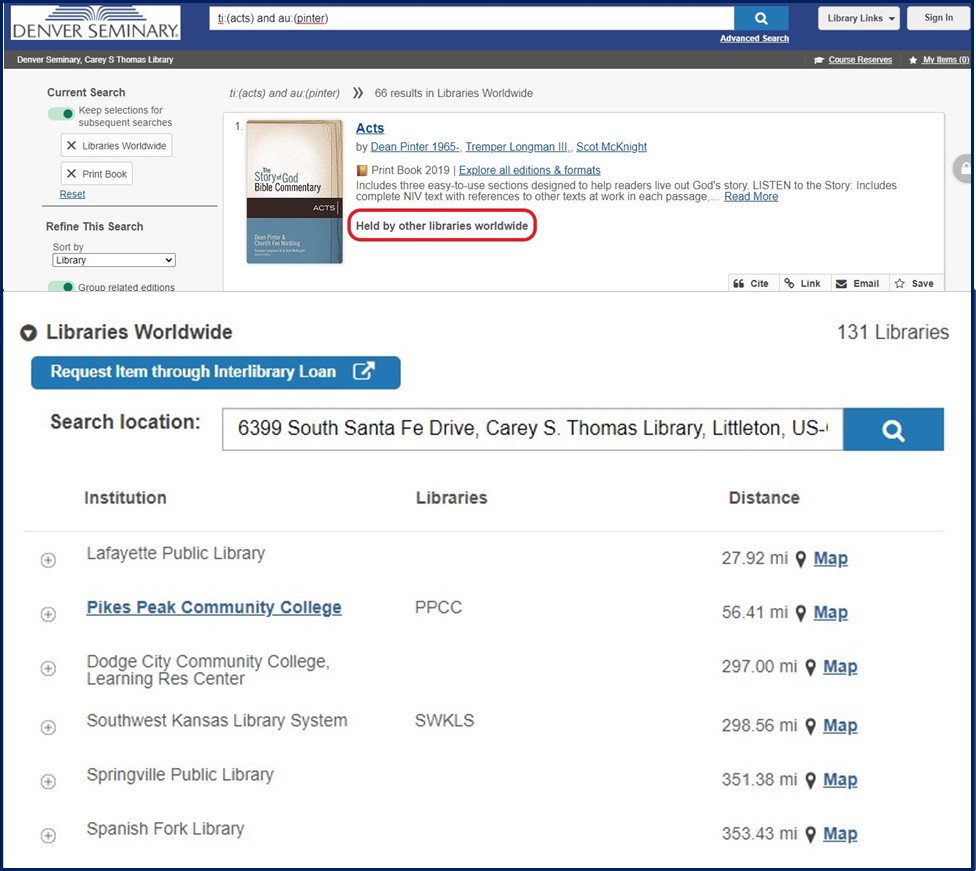 How Do You Receive, Renew, and Return ILL Items?
Articles, chapters, and essays will be emailed directly to you.
You will receive email notification from the ILL office when books are ready for pickup in the Library.
Lending libraries set the due dates; they may grant renewals. Contact the ILL office at least 4 days before the item is due to request a renewal.
Articles, chapters, and essays received by email do not need to be returned.
Return books at the circulation desk of the Denver Campus Library.
What Are the Fees and Charges?
The ILL office will try to acquire items at no charge. Those willing to incur interlibrary loan fees should indicate the maximum they are willing to pay on their request form. Fees will only be charged upon approval of the patron.
Items are the responsibility of the patron who is in possession of them. If an item is damaged or lost while in your possession, you will be charged for the damage or replacement.
Books not picked up within 2 weeks of the arrival notification will result in a $5.00 charge per item.
Can You Request Dissertations and Theses?